I had a nightmare last night.

This is not a very common experience for me. Most of my dreams involve unicorns and puppies.

Last night's dream was so bad that after waking up at 5 am, I couldn't fall back asleep, which usually isn't a problem for me at such an ungodly hour.

I'm sure you're now asking yourself what subconscious thoughts could have possibly caused me such great anguish. It wasn't monsters or demons or even sweet potatoes.

It was the iPhone.

In case you haven't heard, iPhone v.2 is almost certainly going to be announced on Monday. Rumors about the One Gadget to Replace Them All, which I've been obsessively following for weeks, all point to a line up of features that address the initial model's shortcomings. As much as I've wanted one since they were first announced almost 18 months ago, I've held off for a variety of reasons, but following the expiration of my Verizon contract in March, the demise of my old iPod in April and the maelstrom of rumors in May, I have been overrun by an urge to part with hard earned money for the shiniest of the shiny.

Clearly, as evidenced by my dream, this longing has seeped deep into my subconscious. The result of said seepage, however, was not pretty.

Most of the details are fuzzy, but what I remember most about the dream was opening the box to find a phone that fell short of expectations. In this case, short is probably an understatement. The device I removed from the box resembled something like this, only it flipped open to reveal more of the latest in 1980s technology.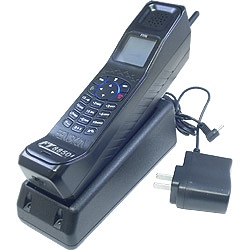 I was crushed. And in my dreamy despair, I began frantically scouring eBay for a replacement, only to find that all of the older iPhones were being snatched up for thousands of dollars by disappointed folks like me. And that's when I finally cracked and woke up.

What's the takeway, aside from the fact that I'm a dork? Either I need more perspective in life, or Steve Jobs better not disappoint on Monday.